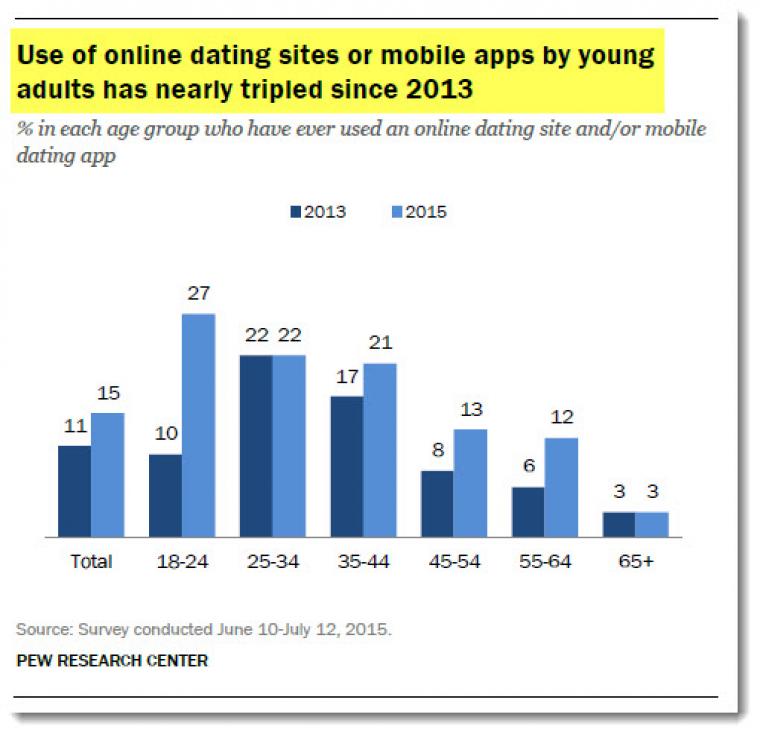 Fascinating finds from the latest Pew Research Center study on online dating and mobile apps
Submitted by
Joe Adams
on February 23rd, 2016.
Use of online dating services and mobile dating apps has surged since 2013, the latest study from the Pew Research Center indicates.
Pew's national survey of 2,001 adults shows usage by 18-to-24-year-olds jumped nearly threefold during the survey period while usuage among 55-to64-yearj-olds has doubled. Other findings from the nonprofit think tank that you can read in the full report below include:
15 percent of American adults reported they have used online dating sites or mobile dating apps compared to 11 percent in 2013.
12 percent of American Adults have used an online dating site, up 3 percent early 2013.
Nine percent of American adults have used a dating app on their cellphone, up from 2013 when only 3 percent of Americans had used these apps.
Meanwhile, 41 percent of Americans know someone who uses an online dating service, and 29 percent know someone who met a long-term partner or spouse online. Nearly six in 10 college graduates know somone who using online dating sites.
And, here's other telling findings: 80 percent of Americans who have used online agree the avenue is a good way to meet people. On the flip side, 45 percent of online dating users agree that online dating is more dangerous for meeting people than other ways.
Check out the report below for more results and insights into Pew's survey methodology.